VIC Arts and Crafts Exhibitions

Art Exhibition 2018

VIC launched our first Art Exhibition of 2018 at the

Haworth Art Gallery

on the 31st March in Accrington. The exhibition will be on until 20th May, there are 40 painting by over 12 VIC members on view.

The art work has all been done at the VIC Centre in Haslingden during the art groups that runs every Tuesday and Friday. The art group was one of the first activities VIC set up in 2011 and was the inspiration of

Darren Horsnell

, whose effort over the last 7 years has seen the art group develop into what we have today.

To mark the 100 year anniversary of the Royal Air Force there was an

other exhibition of rare photo's of WW1 aircraft and the Royal Flying Corps.

We would like to thank

Graham Jones MP

, the staff from the Haworth Art Gallery, VIC members who turned up to support the opening and members of the public. Well done all.

For more information on the art group or VIC please contact the office on 01706 833180

Pictures by Lauren Davies, Jaqui Collins and VIC members.
Art Exhibitions 2016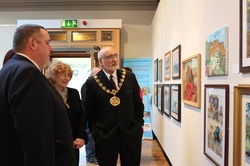 The Creative Community Hub ART has exhibited a number of their paintings at the
Touchstones Art Gallery
in Rochdale. The Exhibition started on the 21st November 2016 and went on for 11 weeks.
The exhibition was officially opened by the Mayor of Rochdale, Surinder Biant. Mayor Biant thanked the veterans for the invitation and described the work as "fantastic". He said: "You have got real hidden talent and thank you for the excellent exhibition."
Mayoress Cecile Biant added: "There are some really top notch paintings; I especially like the ones by Liz Taylor."
The Deputy Lieutenant of Greater Manchester Ian Sandiford and members of VIC attended the opening of the exhibition in Gallery One. [
Read more
]
---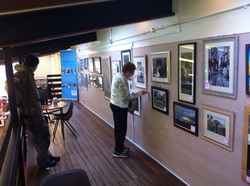 The CCH art exhibition at Whalley Library and Higham School.

---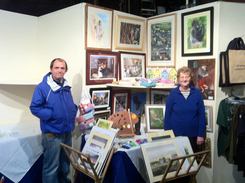 ---
Bury arts exhibition - Millgate Shopping Centre 2014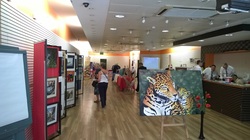 In August 2014 VIC held a second Veterans Art Exhibition at the Millgate Shopping Centre in Bury. VIC attracted more visitors than last year's exhibition and sales soared by 50 percent. It was held over 10 days and we had 3,119 visitors come into the shop and view the pictures.
There is more information on our August 2014 newsletter
.
---
Bury arts exhibition - Millgate Shopping Centre 2013

Alder Grange art exhibition - Rawtenstall 2013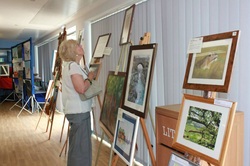 VIC held there first art exhibition at Alder Grange School in Rawtenstall

---
Army Arts Society Annual exhibition - Salisbury 2012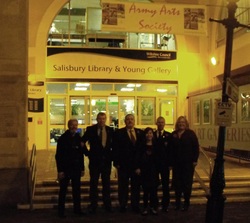 ---