There are 59 named service personnel on the cenotaph in Bacup Cemetery, it lists the service numbers, regiments they served with and the plots they are buried in. During the initial research we found that some of the graves may not have the bodies interred there but the family had them named on the family headstones. Further research is on-going to check the Commonwealth War Graves records to see where those servicemen were buried.
Members of VIC visited the cemetery in May and June 2013 to collate this information and liaised Rossendale Borough Council (RBC) who are responsible for cemeteries. The information held by RBC will give us information on whether they are interred, and some information on the families. In addition the 59 named servicemen remembered on the cenotaph, there are an addition 70 unmarked graves. Over the last 100 years, the graves have been removed due to safety reasons or became neglected due to their families dying or moving out of the area and no longer visiting the graves.
VIC discussed with a local stonemason Chislestones Memorials in Bacup who agreed to supply us with a small stone for each of the120 servicemen, these will be laid on each of the grave sites, once permission has been obtained. There is a great deal of research to do to try to make contact with living members of the families, and notices will be posted in early 2014 in prominent sites around Rossendale and through other media forms.
There has been a great deal of local research undertaken already, there is no intention to duplicate any other local research. VIC members will work alongside Lancashire Community Payback teams, Princes Trust, local schools, and community groups during the duration of the project. The project aims to be completed by March 2015.
135 graves have been located in Bacup Cemetery, many no longer had a headstone so this meant we difficulty in locating their graves in the different plots around the cemetery. The
Commonwealth War Graves Commission
kindly gave us a list of those buried in Bacup Cemetery and with the local research already carried out by
Wendy Lord
, ensured the process of locating these graves was made considerably easier. A book was produced by Wendy Lord called 'Where Heroes Rest The Great War Dead of Bacup Cemetery'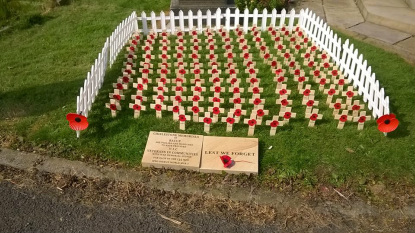 Comprehensive research has been carried out using
Wendy Lord's book
, The
Parish Records
,
CWGC
, the
Ancestry
Records and a variety of publications.
A full list of the 135 soldiers from Bacup can be downloaded by clicking on the picture.

The list contains:
Their Service numbers,
Their Rank,
Name,
The date they died,
Their age,
The grave location,
Their Regiment they served in
---