The Creative Community Hub

The Art group was one of the first activities developed by VIC and through Darren Horsnell's own experience of using art for its therapeutic benefits at Combat Stress; it was decided to set up a weekly group in Bacup in 2011. The group has developed into one of our successful projects and the membership has grown.

The ages of those who have taken part over the last two years have ranged from 6 – 92 years of age. Many of those who have taken part have had very basic arts and crafts skills, the work produced has improved so much that their work has been exhibited at the number of venues; including our first VIC exhibition at Alder Grange in 2011, Bury Millgate Shopping Centre in 2012 & 2013, The Army Arts Society annual exhibition at Salisbury in 2011, Bideford Veterans Art Exhibition, Castle Park Association of Wildlife Artists, The Tate Gallery in London and numerous community arts and crafts events.

VIC was successful in a second application for funding through the Armed Forces Community Covenant Grant Scheme in February 2014. The grant was to develop the art and crafts group further so others in the wider community can take part in these activities. With the VIC Centre opening we had the accommodation and the necessary resources to develop this Creative Community Hub. It is so successful and oversubscribed that is now run on Tuesday and Fridays at the VIC Centre. There are plans to open one evening and occasional week-ends.

The Creative Community Hub has broadened its activities offered and now includes other crafts such as glass painting/etching, pottery, modelling, air painting, framing and mounting service, photography and combined art, learning and outdoor weekend activities. Offering such varied activities provides a focal point for community integration and increased local involvement and shared identity.

VIC provides training/workshops around the various activities to increase the knowledge and skills of participants and the facility for participants to become tutors and volunteer support. Working in partnership we will use arts and crafts as a means to contributing to local communities and outreaching from the Centre thus attracting a wider membership who will gain benefit and advantage as existing members have done.

The VIC art group is now a well established form of relaxation therapy enjoying the full benefits at its permanent arts and crafts room in the VIC Centre in Haslingden.



If this service may be of benefit to you or any of your family please call Darren Horsnell on 01706 833180 or email darrenhorsnell@vic.org.uk

Darren Horsnell - Volunteer Arts & Crafts Co-ordinator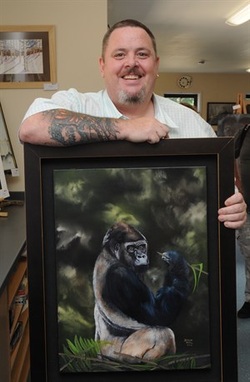 Darren Horsnell joined the 4th Field Regt, Royal Artillery at sixteen and was nineteen in 1982 when they were deployed to the Falklands.
Darren struggled with the transition from the military environment to settling down into a new life as a civilian. He had a number of jobs within two years of leaving and tried to re-join the army. He failed to re-enlist following a medical due to the early onset of some mental health symptoms of Post-Traumatic Stress Disorder (PTSD).
He became homeless and lived in his car for eighteen months and the only contact he had was through the internet. He became friends with a friend he had during his childhood and she supported him. With her support he contacted Combat Stress and for ten years he started to live with PTSD. Whilst at Combat Stress he was introduced to art, and this was one of the therapies that was having a positive impact on his PTSD. With her support Daren moved up to Haslingden in 2011 and started a new life. He was diagnosed with PTSD in 1990, this was attributed to his experiences during the Falklands Conflict.
Darren was one of the founder volunteers when VIC was formed in 2012 and it was his vision that he would continue to help others using art for it's therapeutic benefits and he established the Friday art group in Bacup. Darren was still under Combat Stress at that time and was not coping mentally, he relied on his partner heavily and rarely went anywhere on his own or engaging with local NHS services. The art group was one and the first activities VIC set up and Darren was encouraged to lead this project. This very quickly proved to be a success not only for Darren to regain his confidence, self-esteem and motivation but also others using the group. With Darren's guidance and enthusiasm the group developed and received some MOD funding for the Creative Community Hub. Darren has gone onto running our first Social Enterprise project; the Positive Art shop in Rawtenstall.
Darren's story and introduction to Combat Stress and art therapy.
---
The Hut Project - Dunham Massey
VIC Art Group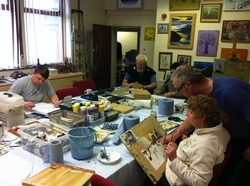 The Creative Community Hub art group meet every Friday between 1030hrs - 1530hrs at the VIC Centre in Haslingden.

The art group gives everyone the opportunity to practice various mediums including;

Water colours, Acrylic, and oil painting

Model making

Although this art group is already subsidised, there is a small charge of £5 per person per session and this charge includes materials and refreshments.



---
Arts & Crafts in the Community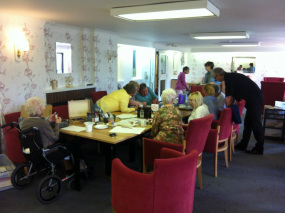 The Creative Community Hub meet every Wednesday between 1400hrs - 1600hrs at Jubilee Court, Jubilee Way, Helmshore.
The group sessions include;
Water colour, Acrylic painting
Pencil sketching/ drawing and drawing with pastels
These sessions are changed regularly for variety and to teach new skills to the group
Please contact Darren on either
darrenhorsnell@veteransincommunities.or
01706833180
---