DIG for VIC

The 'Dig for VIC' is a project funded late in 2014 through a Social Prescribing grant provided by East Lancashire CCG in conjunction with Burnley, Pendle, and Rossendale Community Volunteer Services (BPRCVS). The back walled garden at the VIC Centre is ideal to develop an area where the Armed Forces Community could learn new skills in horticulture and wood working skills.
The aim of the project was to get some of our more socially excluded members involved in the designing and constructing of the shed/ workshop, the raised beds, bedding boxes for planting flowers and vegetables.
The project has the potential to be another Social Enterprise alongside the Creative Community Hub, where there is an opportunity to showcase the garden, produce and manufacture garden furniture out in the workshop to supply to the community. This will self-generate the funds required to make this project self-funding, and a workshop and garden area for other community projects we get involved in.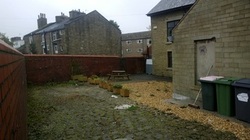 In January 2014 when we moved into the VIC Centre, the back garden had a general tidy up but we felt it would be a good project for VIC members later that year. As with all other projects we deliver out of the centre it also had to have some therapeutic benefits.
Horticulture
therapy is already accepted as an activity that aids recovery from illness, for people with behavioural difficulties and for people with mental health illnesses such as depression and PTSD. So we wanted to develop the garden area with raised beds for growing vegetables and flowers.
We looked at the
Man Shed concept
as a further means of bringing together members to share their skills and experiences, have a laugh and a cup of tea while working on practical activities of their choice. A place for members to be themselves, a place to work at your own pace, a place to exchange ideas and learn, a place for members to support each other and build friendships.
The shed/ workshop has been equipped with a range of power tools for the members to manufacture not only garden furniture but individual projects. The skills gained through the 'DIG for VIC' will be taken out into the community on our
Community Projects
.
We have had over forty members involved in the building stages and over 400 volunteers hours to get the back yard to the stage at the end 2015. Volunteers continue to improve the areas and keep it maintained.
---
DIG gallery 2016

DIG gallery 2015

DIG for VIC build progress and stages 2015