OUTDOOR ACTIVITIES
For those who have served in the armed forces, personal fitness and the opportunity to take part in many different sporting activities can be one of the benefits for joining. When they have left the armed forces many continue to keep up their personal fitness.

Taking part in any physical activity can have many benefits to the individual, not only for physical wellbeing but for those who have a mental health or a psychological illness. These activities are also particularly good with socialising with like-minded people.

The activities that our members can take part in give them an opportunity to 'walk and talk'. Many photographs are taken and the views around the walks can be quite spectacular.

VIC organise at least two outdoor and social inclusion activities from our Centre in Rossendale every second and fourth Thursday each month.
The range of the VIC activities have included; walking, fishing, and water based activities. Our walks are generally around the Rossendale and within a 10 miles radius where there are a number of walks that can take into consideration all the different fitness levels and abilities.


2018 Outdoor activities and Social Inclusion trips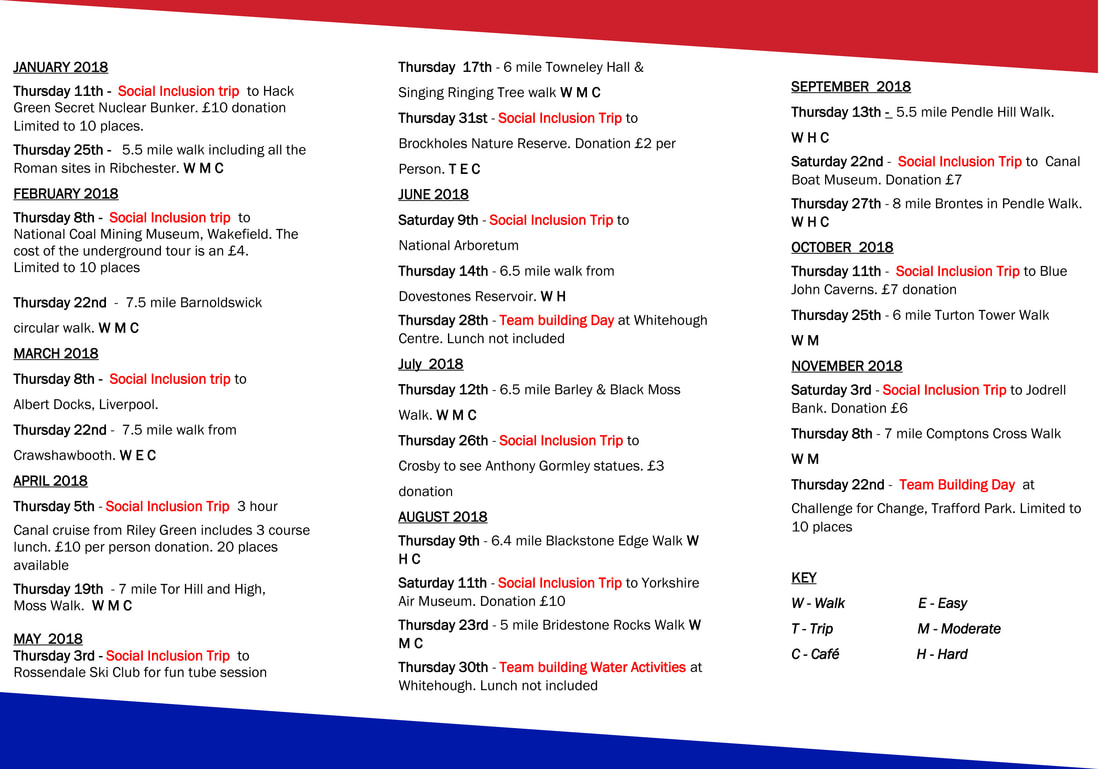 VIC Outdoor activities & Social Inclusion trips

VIC Team day - Whitehough Outdoor Centre - 27th March 2018

On Tuesday 27th March, ten VIC members went to
Whitehough Outdoor Centre
in Barley for a team day. The day was organised by
Burnley FC in the Community
and the first of two such days we have planned up there. The second day will be the 24th April. The day involved climbing Jacobs Ladder, the leap of Faith and a walk around Aitken Woods.
The ages of veterans who attended ranged between 28 and 76, everyone had a great time.
Canoeing & Kayaking on Hollingworth Lake 20th August 2016

A social inclusion kayaking and canoeing day was held at Alternate Forces at Hollingworth Lake, Rochdale.
A fantastic wet time was had by all, not least because it was raining and blowing a gale.
One of the highlights was kayak football and another was when they canoed out into the lake and battled the current to get back.

Competition team day Hollingworth Lake 1st June 2016

On the 1st of June a team from VIC, Forward Assist based in Northumberland and a team from Salford Armed Forces Veterans Network took part in a competition that included six activities; raft building, orienteering, and getting across the lake using two barrels. The scores were close and VIC won two of the of the challenges; getting the two barrels across the lake and the orienteering. SAFVN won overall

Team building day 18th May 2016

We held our second Team Building day at Hollingworth Lake, it was organised by Alternate Forces. VIC members from Darwen, Manchester, Rochdale and Rossendale took part.

Navigation Course April 2016

VIC members completed a three day Navigation course with Alternate Forces around Hollingworth Lake in Rochdale

First Aid at Work Course April 2016
VIC members completed a three day First Aid at Work course with Alternate Forces at their centre at Hollingworth Lake in Rochdale

Yorkshire Sculpture Park 19th November 2015

VIC members enjoyed a day at the Yorkshire Sculpture Park. The highlight of the visit was the cascade of poppies from the bridge into the lower lake.
Team building day at Hollingworth Lake 15th September 2015

VIC members joined another group of veterans on a team building day at Hollingworth Lake in Rochdale at the
Alternate Forces
centre. It was agreat success and we are planning more outdoor activites with Alternate Forces.
---
OUTDOOR ACTIVITIES

Walking


Fishing


Outdoor activities