Positive Art is a one stop shop for all your art materials. We also have a wide range of crafts on offer.

We will be holding work shops, inviting professional artists to share their amazing skills, painting lessons and learning to paint in the style of American artist, the late great Bob Ross.

Positive Art was formed as a result of the success of the Veterans In Communities art groups that have grown in both numbers and popularity.

Please contact Darren Horsnell on 01706 833180 for more information on the range of art materials and the prices. All the art materials are sold discounted prices
LATEST OFFERS

Royal British Legion scarfs

| | |
| --- | --- |
| | The Haslingden Branch of the RBL are selling some scarfs to raise money for the Poppy Appeal. They are only £10, the quality is great and they look the part. If you want to buy one then please contact either the Haslingden Branch of the Royal British Legion or call our office on either 01706 833180 or email bobelliott@vic.org.uk . |
Veteran Bears

Veteran Bears and Army Bears are made by The Great British Teddy Bear Co and have been dressed by the Royal British Legion Industries (Poppy Factory).
The cost of each bear will be £20 each, P&P will be extra. You can buy one by emailing us or ring the office on 01706 833180.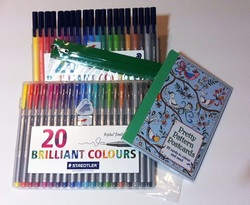 Positive Art Shop are now selling the therapeutic range of ready made colouring packs ranging from £40 down to a starter pack for only £10. We also have a wide range of therapeutic colouring for adults books. Wide range of colouring pens and pencils and will soon be starting colouring sessions at the Positive Art Shop.

---
Where to find us

12 Bury Road
Haslingden
Rossendale
BB4 5PL

Telephone the VIC main office on 01706 833180
Selection of art materials available to buy