The VIC team

Liz Hamilton - Chief Executive

| | |
| --- | --- |
| | lizhamilton@vic.org.ukLiz, lives in Bacup and has been working in the third sector for many years starting in April 1996 at Rossendale Hospice. Her role was initially appeals director and latterly she was fundraising manager. Liz has also worked as a fundraising manager with Hyndburn and Ribble Valley Domestic Violence Team.Liz joined Carers Contact in 2005 as a Carers Development Worker at Carers Contact where she supported carers from all over East Lancashire. Liz became a senior caseworker and then manager and in 2012 and was appointed chief executive of Carers Link Lancashire based in Accrington. "One of my first jobs was to bring the subcontractors back into the organisation and TUPE the staff back across. I also made the business into a limited company and undertook restructuring"."I had just won a major contract for supporting adult carers, Carers Link had achieved the quality standard PQASSO so I knew the company was in a good position and I wanted to look for a job so I could be nearer home." Liz is married to Derek 'Degs' who is an ex-Sapper and served in the Royal Engineers for 10 years. Her grandfather served in the Lancashire Fusiliers and she has two teenage children. "My role is to build links with the commissioners to make the organisation sustainable," she said. "I also have to secure funding so we can carry out projects to meet the needs of the veterans and create a stable foundation of processes and systems that evidence what we do and the benefits it generates."I also need to promote VIC within the community, to get our organisation out there, and to get people to come into the centre in Haslingden and use our facilities."Liz has a Masters degree in Medieval Welsh history and a post graduate certificate in voluntary and third sector management. |
Bob Elliott - Operational Manager

bobelliott@vic.org.uk

Bob joined the Royal Engineers in 1976 as a boy soldier and left the army in 1985 and became a 'civvy' after serving nine years. He did a variety of different jobs before he started working with ex-service personnel; LGV driving, warehousing, forklift truck instructor, NVQ assessor, careers adviser, trainer and working on a number of DWP programmes for the unemployed and those on sickness benefits.

In 2009 Bob got involved with another ex-service charity and started working in Rossendale and areas across the North-West supporting ex-service personnel who had difficulty making the transition back into civilian life; some had mental health and psychological issues relating to the service career. After being made redundant in 2010 the opportunity presented itself to work full-time with ex-service personnel on veterans outreach programme in Rossendale.

Bob is now the Operational Manager for VIC, and has seen the benefits first hand of the range of services and activities VIC now offer to ex-service personnel, their families and uniformed services. Although VIC is still viewed as new charity by some of the larger and well established veterans charities, it has developed a range of services and activities to meet the needs of the group. Bob says 'We have seen a rapid growth in the last 5 years and we are already working outside of Rossendale, East Lancashire and parts of Great Manchester.

Phone/Text - 07961 554006
Administrator - Amanda Walton

amandawalton@vic.org.uk

Amanda was previously an administrative assistant with a medical legal organisation and, before taking time out to bring up her three children she was a civil engineering technician with Lancashire County Council.She said: "For me, this job offered and exciting challenge. My father used to be in the police and my husband is ex-forces and grew up in South Africa."The needs of veterans is something new to me, but I am very eager to learn and keen to help."In her spare time Amanda has been a volunteer Guider and Brownie leader for the past 15 years and also leads the Senior Section in Haslingden.
Project Worker -

Volunteer Project Worker (Heywood) - Liz Davies

lizdavies@vic.org.uk



Liz, from Rochdale served in the RAF for five years and left while expecting her daughter Lauren, who is 24 and has cystic fibrosis.

After leaving the service, Liz became a Police Special in North Yorkshire for three years and went on to teach karate for 15 years, running her own club Lotus Karate Do in Heywood before spondylosis forced her to retire from the martial art.
Darren Horsnell - Arts and Crafts Coordinator

darrenhorsnell@vic.org.ukDarren is a Veteran who has served in the Army for over 9 years. He has toured many Countries around the world including Northern Ireland and the Falkland Islands.

Darren found his talent for painting during his 10-year attendance at Combat Stress in Leatherhead. Some of Darren's work has been displayed (and sold) in the Mall and Tate Galleries, London. Since joining VIC in 2011 he has coordinated arts and crafts projects for veterans and their families and has undergone training for personal and professional development. He is now a case worker for the RBL and is coming to the end of his PTLLS course.

The art group is growing strong with many veterans coming forward wanting to 'give it a go'! Darren loves teaching painting and hopes that other veterans will find peace of mind in the comfort of arts and crafts, as he does.

Darren is a keen fisherman and gets involved with as many of the VIC's outdoor activities as he can.,
Steve Butterworth - Outreach worker

stevebutterworth@vic.org.ukSteve joined the Royal Navy in 1976 as a Catering accountant and after initial training served for three years on board HMS Hermes traveling extensively. In 1982 Steve was based at HMS Dolphin in Gosport and recalled to sea service on HMS Intrepid to serve in the Falklands Campaign as a medic. He joined VIC in early 2013 after a referral from the Military Veterans Services, with a view to joining the art group, after a period of illness and redundancy. Steve is a part time employee that started with VIC through the Royal British Legion Industries (The Poppy Factory).

Steve runs two of the VIC Outreach groups; Rochdale and Pendle. He is still involved with the art group and assists with the organisation of exhibitions and crafts fairs.
Steve also runs the Allotment in Rossendale and works on the 'Veterans In Production' project.
Gill Hughes - Transformational Coach

gillhughes@vic.org.uk

VIC Transformational Coach Gill Hughes is working with veterans to help them rebuild their lives.

Gill has spent more than 20 years working with employment projects and has worked in the public, private and voluntary sector.

Her role is part of the

Changing Futures

B

uilding Better Opportunities programme funded by the European Social Fund.


She said: "I will be providing one to one support for veterans and their immediate families to help them to make progress into work and to make improvements in their lives.

"I will help them with confidence and motivation, look at their health conditions and be able to help them address a range of different issues these could be around homelessness, mental health, drugs, alcohol or disabilities."
Tony Stubbs - Volunteer outreach worker

tonystubbs@vic.org.uk
Tony is a volunteer outreach worker that works across Heywood, Middleton and Rochdale.

Tony joined VIC in 2012 as a member and in 2013 he became one of our outreach workers. He also works for the Military Veterans Service as a volunteer peer mentor supporting veterans with mental health, alcohol and substance misuse. In 2017 he became a media ambassador for The Royal British Legion on the Veterans' Gateway

Tony is originally from Manchester and was just 15-and-a-half when he signed up and 16 when he went on a Junior Leaders' Course.

On passing his basic training in Newcastle he was posted into the King's Own Royal Border Regiment completing three tours in Northern Ireland and Germany.

On returning to Civvy Street he struggled to fit in and ended up homeless, mixing with the wrong crowd and getting into a life of crime.

His own battle with alcoholism has left Tony in need of a liver transplant.

Tony is currently our outreach worker for Heywood and runs the allotment in Heywood.
Pat O'Reilly - Volunteer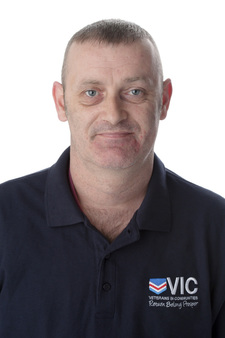 ---
Ivy Limbrick - Outdoor activities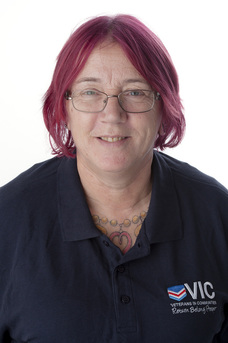 ---