WW1 tank Willow structure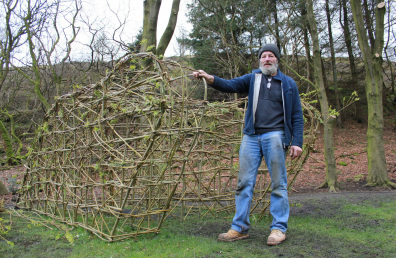 VIC were awarded some funding in 2013 to rebuild a dry stone at the Whitworth Memorial Gardens. In addition to the dry stone wall, we included a scaled willow structure of a First World War British Tank.
One of our members Dave Joddrell started the project in March 2014 and the tank was finished in April. Dave used some of the surplus willow to structure another model of
Tommy
, a WW1 soldier. Unfortunately Tommy was
stolen over a weekend
in April.
After the story was published in the Lancashire Telegrraph, Rochdale On-line and the Rossendale Free press a local man found Tommy in Heywood and he was returned to VIC, unfortunately as he was removed from the ground at a critical growing period Tommy will not take root.

However the WW1 tank has started to grow and it will be a living structure now on the border of Rochdale and Rossendale at the Healey Dell corner.
---
Willow WW1 tank in 2016